REVIEWS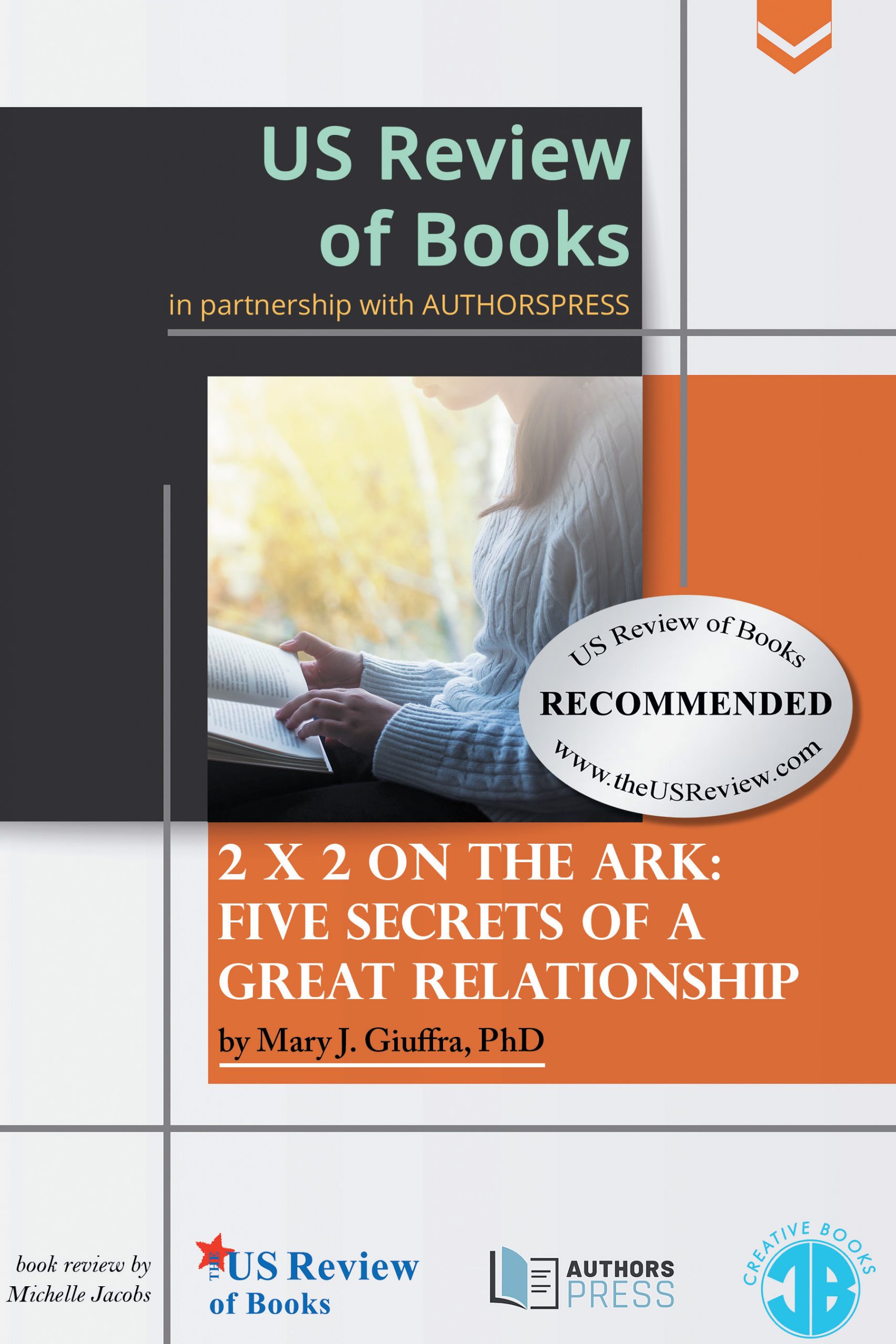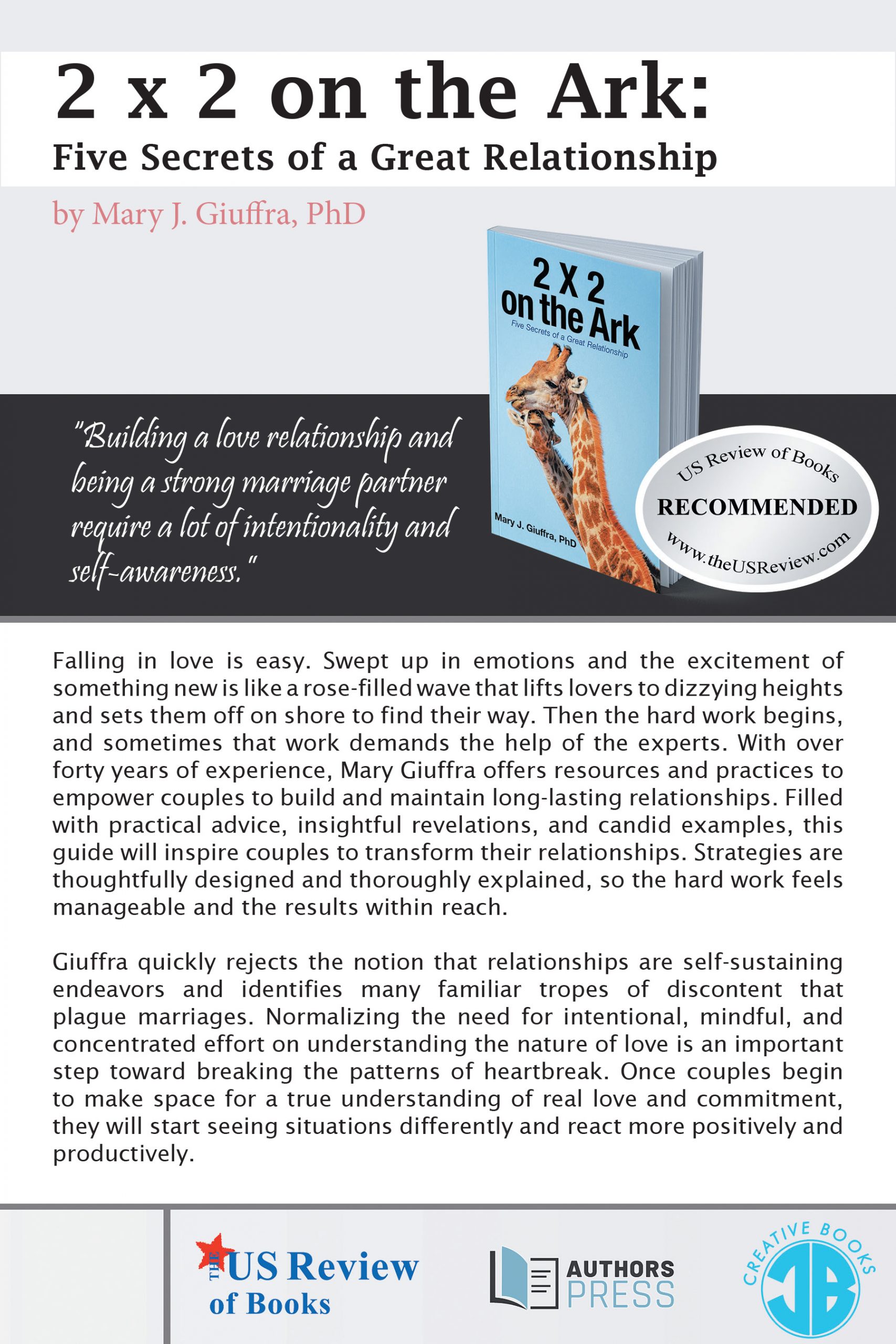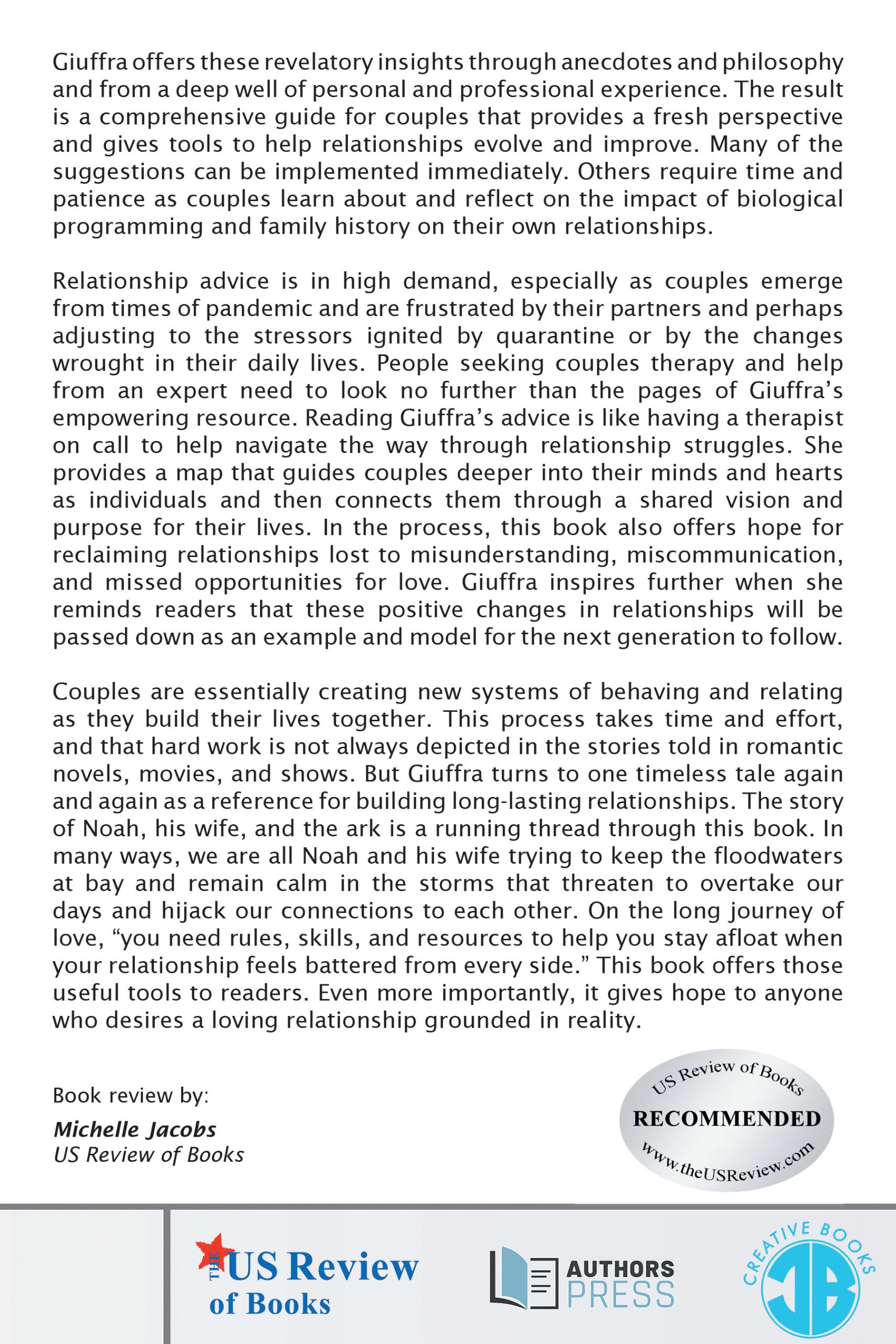 ---
2 x 2 on the Ark: Five Secrets of a Great Relationship
by Mary J. Giuffra, PhD
Balboa Press
"Building a love relationship and being a strong marriage partner require a lot of intentionality and self-awareness."
Falling in love is easy. Swept up in emotions and the excitement of something new is like a rose-filled wave that lifts lovers to dizzying heights and sets them off on shore to find their way. Then the hard work begins, and sometimes that work demands the help of the experts. With over forty years of experience, Mary Giuffra offers resources and practices to empower couples to build and maintain long-lasting relationships. Filled with practical advice, insightful revelations, and candid examples, this guide will inspire couples to transform their relationships. Strategies are thoughtfully designed and thoroughly explained, so the hard work feels manageable and the results within reach.
Giuffra quickly rejects the notion that relationships are self-sustaining endeavors and identifies many familiar tropes of discontent that plague marriages. Normalizing the need for intentional, mindful, and concentrated effort on understanding the nature of love is an important step toward breaking the patterns of heartbreak. Once couples begin to make space for a true understanding of real love and commitment, they will start seeing situations differently and react more positively and productively. Giuffra offers these revelatory insights through anecdotes and philosophy and from a deep well of personal and professional experience. The result is a comprehensive guide for couples that provides a fresh perspective and gives tools to help relationships evolve and improve. Many of the suggestions can be implemented immediately. Others require time and patience as couples learn about and reflect on the impact of biological programming and family history on their own relationships.
Relationship advice is in high demand, especially as couples emerge from times of pandemic and are frustrated by their partners and perhaps adjusting to the stressors ignited by quarantine or by the changes wrought in their daily lives. People seeking couples therapy and help from an expert need to look no further than the pages of Giuffra's empowering resource. Reading Giuffra's advice is like having a therapist on call to help navigate the way through relationship struggles. She provides a map that guides couples deeper into their minds and hearts as individuals and then connects them through a shared vision and purpose for their lives. In the process, this book also offers hope for reclaiming relationships lost to misunderstanding, miscommunication, and missed opportunities for love. Giuffra inspires further when she reminds readers that these positive changes in relationships will be passed down as an example and model for the next generation to follow.
Couples are essentially creating new systems of behaving and relating as they build their lives together. This process takes time and effort, and that hard work is not always depicted in the stories told in romantic novels, movies, and shows. But Giuffra turns to one timeless tale again and again as a reference for building long-lasting relationships. The story of Noah, his wife, and the ark is a running thread through this book. In many ways, we are all Noah and his wife trying to keep the floodwaters at bay and remain calm in the storms that threaten to overtake our days and hijack our connections to each other. On the long journey of love, "you need rules, skills, and resources to help you stay afloat when your relationship feels battered from every side." This book offers those useful tools to readers. Even more importantly, it gives hope to anyone who desires a loving relationship grounded in reality.
RECOMMENDED by the US Review
Source: https://www.theusreview.com/reviews-1/2-x-2-on-the-Ark-by-Mary-J-Giuffra-PhD.html#.YPjMGkwpDct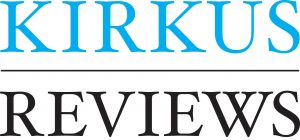 TITLE INFORMATION
2 X 2 ON THE ARK
Five Secrets Of A Great Relationship
Mary J. Giuffra
BalboaPress (272 pp.)
$35.95 hardcover, $17.99 paperback, $3.99 e-book
ISBN: 978-1-982256-96-8
February 26, 2021
BOOK REVIEW
Couples therapist Giuffra offers a debut guide for those navigating the waters of romantic relationships.
This work draws heavily on the metaphor of Noah's Ark in the book of Genesis: "Did [Noah] wonder what he needed to learn from all those animals aboard? Clearly the animals had done a far better job connecting and living peacefully with others of their species than humans had." Giuffra uses such examples to help readers explore what traditional wisdom reveals about modern love, but she also draws on more recent neuroscience research. In five sections, the author lays out a practical "Love Map" for successful relationships, arranged into five distinct advice topics: "Leave Space for Love," "Operate Your Brain To Love," "View Your Conditioning With Love," "Emerge Free To Love," and "Route and Navigate Life's Stormy Seas." Throughout, Giuffra not only provides numerous stories of couples, including her own anonymized clients, as they learn to incorporate various principles, but also clear tips for readers for using these strategies in daily life: "Recall a time when you felt happy, fulfilled, or just pleased….Sense, smell, touch, feel, hear, and imagine that experience again." At the core of her research is the understanding that, when it comes to love, one's anxious "reptilian and mammalian brains" dominate; however, she asserts that one can resist one's natural "fight or flight" response, create new perceptions, and reverse negative relationship dynamics. This meticulously researched but easy-to-follow work is pragmatic and never preachy, and although it's aimed at those in long-term relationships, its advice will likely be effective for those who are currently in the dating world or simply looking to improve communication in platonic or familial relationships. The broad relevance of Giuffra's work is due to its focus on self-love, on taking responsibility for emotional outbursts, and on addressing unrealistic expectations of oneself and others. By touching on such topics as attachment styles and birth order, she encourages readers to recognize and challenge limiting beliefs and patterns in their own lives.
An informative and useful guide to approaching emotional interactions in new ways.